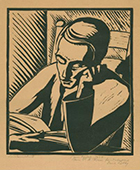 Second-Hand Book Sale
at the Center for Jewish History
Sunday, May 17, 2015 from 11:00am - 4:30pm
Monday, May 18, 2015 from 11:00am - 4:30pm


Lüthy Emil. "Dr. Max Rieser", 1924, linocut.
Courtesy of the Leo Baeck Institute, New York
The American Jewish Historical Society, American Sephardi Federation, Leo Baeck Institute and YIVO Institute for Jewish Research will be selling duplicate copies of books from their library collections.  Most books are about Jewish topics, including: memoirs, biographies, World War II, the Science of Judaism, collected works, academic studies, literature, art and photography. Books are also in languages ranging from English to Yiddish, German, Hebrew, Russian and Polish.
In addition, the participating organizations will be selling discounted titles from their regular publications.
All proceeds will benefit each organization's book acquisition fund.
Paperbacks: $1
Hardcover: $3
Music and Movies: $1 to $3
Or priced as marked

Cash Only!
For questions or to be included on the mailing list for future book sales, please contact us.
During the book sale on Sunday May 17, the Jewish Genealogical Society will have their monthly May meeting at the Center for Jewish History.  The JGS event will include the Gesher Galicia regional meeting at 11 a.m. and a lecture titled "Holly Golightly Was a Nice Jewish Girl: Our Ancestors Reinvented" by speaker Pamela Weisberger at 2pm. Earlier, at 11:00am Gesher Galicia will hold its regional meeting with Andrew Zalewski discussing "Galician Portraits: In Search of Jewish Roots" and Valerie Schatzker on "Jewish Oil Magnates of Galicia."  All are welcome to attend; the lecture costs $5 for non JGS members.
Center for Jewish History, 15 W. 16th Street, New York City (directions)